Established in 1995, The Lighthouse Company is an LA-based independent production company.
Our projects are distinctive and original and bring together filmmakers from around the world to share their global stories through films and television co-productions.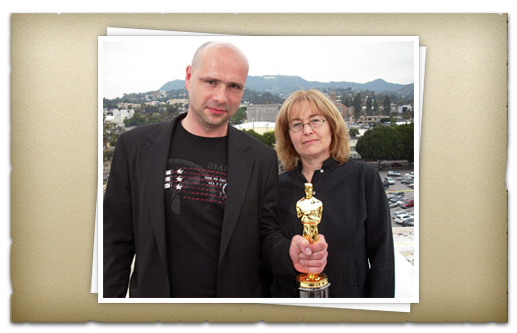 Nichola Ellis with Academy Award® winning director Jochen Alexander Freydank after winning his Oscar® for the live action short film "Toyland"
Recognized initially as a successful PR & Marketing agency servicing the film industry,
The Lighthouse Company was instrumental in championing a number of Award campaigns including:
Academy-Award winning Live Action Short
TOYLAND (Germany) –
Director: Jochen Alexander Freydank
Production Company: Mephisto Film (www.mephistofilm.de)
Director's Guild Award for Outstanding Directorial Achievement in Documentary
BEFORE FLYING BACK TO THE EARTH (Lithuania) –
Director:  Arunas Matelis
Production Company:  Studio Nominum (www.nominum.lt)
National Board of Review "Freedom of Expression" Award
CONSPIRACY OF SILENCE
Director:  John Deery
Production Company: Flick Features (www.conspiracyofsilence.co.uk)
Audience Awards AFI International Film Festival ∙ Palm Springs International Film Festival
VITUS (Switzerland) –
Director:  Fredi M. Murer
Production Company: Hugo Film (www.hugofilm.ch)
US Distributor:  Sony Pictures Classic
Satellite Award for Best Foreign Language Film
MOTHER OF MINE (Finland) –
Director:  Klaus Härö
Production Company:  Matila Röhr Productions (www.matilarohr.com)
Short-listed for Best Feature Documentary for an Academy Award
THE RITCHIE BOYS (Germany) –
Director:  Christian Bauer
Production Company: Tangram Films (www.ritchieboys.com)
Satellite Award nominee for Best Foreign Language Film
EVERYONE LOVES ALICE (Sweden) –
Director:  Richard Hobert
Production Company:  Sonet Film (www.sonetfilm.se)
BEAT THE DRUM – Winner of over 30 film festival awards worldwide
Director:  David Hickson
Production Company:  Z Productions
International Distributor:  Kimmel International (www.beatthedrum.com)