Young Musa is orphaned after a mysterious illness strikes his village in KwaZulu Natal. To help his grandmother, Musa sets out for Johannesburg with his father's last gift, a tribal drum, in search of work and his uncle. The journey confronts him with the stark realities of urban life, but his indomitable spirit never wavers; he returns with a truth and understanding his elders have failed to grasp.
BEAT THE DRUM is directed by David Hickson from an original screenplay by David McBrayer and produced by David McBrayer, Karen S. Shapiro and Richard Shaw.
Music by Klaus Badelt ("Pirates of the Caribbean," "Heaven & Earth") and Ramin Djwadi ("Iron Man").
.
Beat the Drum sold to over 150 countries via international distribution through
Kimmel International.
North America rights available.
Soundtrack album available through Varese Sarabande Records on iTunes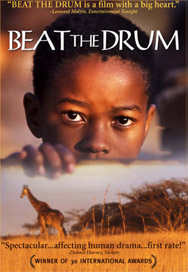 (Shared with Michael Moore's "Fahrenheit 9/11" - Mel Gibson's "Passion of the Christ")

Starring Academy Award winner Brenda Fricker, Sean McGinley, John Lynch,
Hugh Bonneville and newcomer Jonathan Forbes
Inspired by true events, Conspiracy of Silence, written and directed by John Deery, tells the story of a young trainee priest torn between the love for his girlfriend and his vocation to the Catholic Church. Set in contemporary Ireland the film begins with two seemingly unrelated events: the suicide of beloved and
well-respected Father Frank Sweeney, and the expulsion of a young seminary student, Daniel McLaughlin.

Trailer click photo below